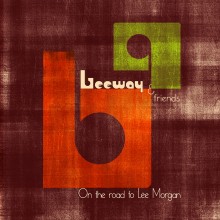 release date:
June 03, 2013
share:
26 mai 2013 ! Premier titre en écoute !!! "Hocus Pocus" en écoute sur le site page sur la page video !!
On the road to Lee Morgan
The Sidewinder
Hocus Pocus
Somethin'cute
I Remerber Clifford
Expoodibent
Before I fell for you
Edda
Untitled Boogalow
Ceora
The Rumproller
The Sidewinder (Big Bang)
SORTIE LE 3 JUIN PROCHAIN !!! LEEWAY & friends, On the road to Lee Morgan. Featuring 20syl, Nina Attal, Thomas Faure. 1er album en tant que leader du trompettiste Vincent Payen (C2C, Hocus Pocus, Electrodeluxe, Nina Attal, Milk Coffee & Sugar ...). En quelques années, le trompettiste Vincent Payen s est forgé une solide réputation sur la scène « jazz-groove » hexagonale ... Entouré de ses musiciens et d'arrangeurs prestigieux il rend hommage à une des plus grandes figures du hard bop : Lee Morgan. Disponible partout en CD et digital (distribution Musicast).
Vincent Payen (trompette et bugle), Olivier Laudrain (sax), Laurian Daire (piano), Sébastien Maire (contrebasse), Laurent Locuratolo (batterie). GRAPHISME de l'album : Nadège Garioud, Nad Artwork www.nad-artwork.com